1st Grade Problem Solving Kit - Custom
PROKIT-1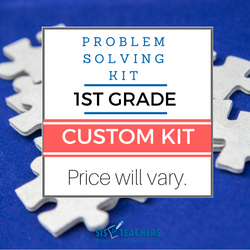 This Problem Solving Kit is a resource kit that will equip teachers to implement model drawings for problem solving in the 1st grade classroom. The kit includes a book of word problems for model drawing at grade level, along with the necessary tools and manipulatives to help set your classroom on the right track for problem solving. Kits are assembled and labeled, ready for classroom use.
Items in kit are also sold separately.
*Indicates recommended quantities.
Step by Step Model Drawing (Book)
Cuisenaire Rods (Set of 6)