2nd Grade Numeracy Kit - MINI
NUMKIT-2-M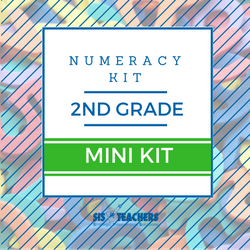 This Numeracy Kit supports the 2nd grade classroom, and is suitable for 6-7 students in a small group. Kits are assembled and labeled, ready for classroom use. Items in kit are also sold separately.
Mini kit includes the following items:
Math Mights Poster: Addition Strategies
Math Mights Download Companion: Addition Strategies (1 license for digital download)
Deck o Dots (5)
Deck o Dots Games: Complete Bundle! (1 license for digital download)
My Counting Buddy Seniors (12)
Subitizing Cards
Understanding Combinations & Missing Parts Screener Tool-Pack
Place Value Mats (set of 5)
Place Value Discs (7)
Number Bond Cards (Addition/Subtraction) (1)
Abacus (1)
Why Before How: Singapore Math Computation Strategies (Book)
Common Core Math in Action K-2 (Book)
Magnetic Ten Frame Answer Board (box of 4)
Place Value Strips (set of 10)
Please note that digital item can be downloaded from the confirmation page immediately after placing your order, from an email with the subject line "Files ready for download — SIS4Teachers" from shannon@sis4teachers.org, or in the order history in your SIS4Teachers Store account.