4th Grade Number Sense Kit - Mini
NUMSEN-4-M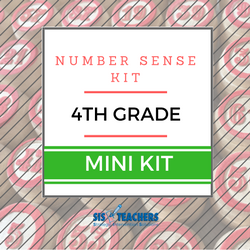 This Number Sense Kit supports the 4th grade classroom and is suitable for a small group of 6-7 students. Kits are assembled and labeled, ready for classroom use.
Items in kits are also sold separately.
Full kit includes:
Math Mights Poster: Addition Strategies
Math Mights Download Companion: Addition Strategies (1 license for digital download)
Place Value Decimal Strips (set of 10)
Place Value Decimal Tiles (5)
Number Bond Cards (Multiplication/Division) (1)
Place Value Mats (set of 5)
Place Value Discs (7)
Abacus (1)
Place Value Strips (set of 10)
Why Before How (book)
Common Core in Action 3-5 (book)
Please note that digital item can be downloaded from the confirmation page immediately after placing your order, from an email with the subject line "Files ready for download — SIS4Teachers" from shannon@sis4teachers.org, or in the order history in your SIS4Teachers Store account.