Understanding Combinations and Missing Parts Screener and Tool Pack
CMPTP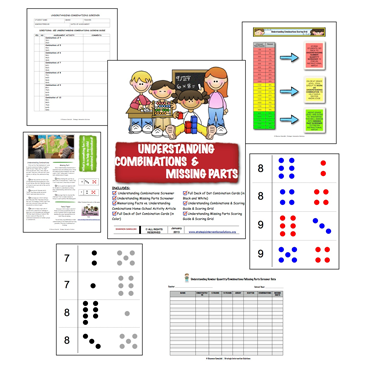 This authentic screener assesses students' understanding of combinations and missing part. Many students memorize math facts with little or no understanding for combinations. We often forge students ahead in to math fact fluency when they are not ready. This screener focuses on the importance of having students use visual memory to understand combinations before being given the algorithm. Once this skill is mastered students can successfully go on to the missing parts concept with the screener. This is a great way to ensure all of your students have the foundation that will help them become mathematicians for life.
This product includes:
Please note: The screener component will be sent to you via email to download at your lesiure. The physical elements of the tool kit will be mailed shortly.
An individual copyright license for one teacher/person
The Screener consists of following components:

Understanding Combination Screener
Understanding Missing Parts Screener
Memorizing Facts vs. Understanding Combinations Home-School Activity Article
Full Deck of Dot Combination Cards (in Color)
Full Deck of Dot Combination Cards (in Black and White)
Understanding Combinations & Scoring Guide & Scoring Grid
Understanding Missing Parts Scoring Guide & Scoring Grid

One physical Tool-Pack, which includes:

Vinyl evelope to store screener tool-pack
Full Deck of Dot Combinations Cards on 60lb card stock in color
Color copy of Scoring Guide in clear sleeve protector