Word Problems for Model Drawing: Level 3 + Solution Key (eBook)
WPL3-DD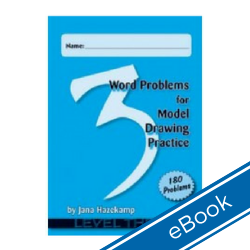 By Jana M. Hazekamp
Practice each day makes fear of word problems go away! That extra practice is the gift you'll give each of your students with this workbook, which offers one word problem for each day of the school year. Perfect for practicing model drawing, or for supplementing any math program with additional word problems.
Please Note:
Purchase of a Classroom Use license entitles use by one teacher in his or her classroom. This use includes displaying, posting, and/or projecting content in the teacher's classroom, as well as printing and/or copying worksheets for student use in that teacher's classes.
Digital items can be downloaded from the confirmation page immediately after placing your order, from an email with the subject line "Files ready for download — SIS4Teachers" from shannon@sis4teachers.org, or in the order history in your SIS4Teachers Store account.