Backwards Design Template (Fillable PDF)
00051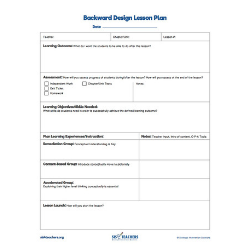 This fillable PDF guides you through the process of backwards design and helps keep you organized as you build your collection of backwards designed lessons.
Note: File must be opened in Adobe Acrobat Reader or Preview (Mac) to allow editing.
Read more about backwards design in our blog post End in Mind: Backwards Design for Math Lessons!