Deck o' Dots Games: Complete Bundle
DODGComplete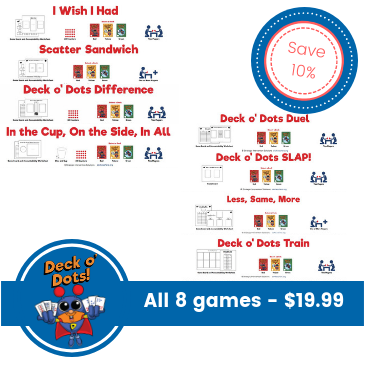 10% savings! Includes both the Developing Numeracy Bundle and the Missing Addends Bundle.
Developing Numeracy. This series of games is designed to help children learn to subitize, or instantly recognize number quantity without one-to-one counting ,and reinforce number conservation, the recognition that quantity does not change with physical rearrangement.
Games included:
Deck o' Dots Train
Deck o' Dots Same, Less, More
Deck o' Dots SLAP!
+/-/Missing Addends. This series of games helps students build on their foundation of conservation. Students will learn to play with adding and subtracting and missing addends, not using real digits but using their understanding of the structure of our number system. The accountability sheets in this series are designed to help students relate their learning to In the accountability sheets, relating it to learning the numbers and operation standards, but not through the symbolic or abstract.
Games include:
Deck o' Dots Difference
Deck o' Dots In the Cup, On the Side, In All
Deck o' Dots Scatter Sandwich
Deck o' Dots I Wish I Had
Games are designed to be used in conjunction with our best-selling Deck o' Dots.
Single-Use License. Purchase of this bundle, by itself or as an add-on to another product, entitles personal use by one teacher in one classroom.